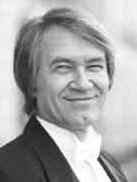 The Russian Chamber Chorus of New York (RCCNY) follows up on its April 2006 program "Parallels and Crossings," which showcased music by familiar Russian composers Tchaikovsky and Shostakovich alongside American composers Samuel Barber and Sarah Dawson, with a sequel: "Parallels and Crossings II: Two Motets and Three Songs."
Vocal Area Network met with Nikolai Kachanov for an introduction to this year's development of the Parallels and Crossings theme.
Vocal Area Network: What can we expect for this year's program?
Nikolai Kachanov: From last year's nucleus we would like to expand in many directions. Last year I focused on the two basic elements that you can see in our name, the "Russian Chamber Chorus of New York"; thus Russian composers and American composers. But, of course, there is far more diversity than just Russian and American here in New York. And in this program we are celebrating a wider sampling of our extraordinary diversity, and exploring less well-known composers than the famous few.
So this year in addition to less-familiar Russian composers Murov and Sviridov